Introduction
In recent years Geographical Indications ('GIs') has emerged as one of the most important instruments for protecting the "quality, reputation or other character of goods essentially attributable to their geographical origin". It is a 'source identifier' and indicator of quality. It helps to promote goods of a particular region or country and is "eligible for relief from acts of infringement and/or unfair competition".
Concept of Geographical Indication
The concept of Geographical Indications (GIs) has its origins in the Paris Convention of 1983. Although the Convention did not per se use the term "Geographical Indications," Article 1(2) of the Convention referred to "appellation of origin" and "indications of source."
Under the TRIPS Agreement GIs have been referred to as indications identifying a product as originating from the territory of a member, or a specific region or locality within that territory, where a particular quality, reputation, or characteristic of the product is essentially linked to its geographical origin.[1]
Section 2(e) of the Indian Geographical Indications of Goods (Registration and Protection) Act, 1999[2], defines GIs in relation to goods as indications that identify agricultural, natural, or manufactured goods as originating or manufactured in a specific territory, region, or locality, where the quality, reputation, or other characteristic of the goods is essentially linked to their geographical origin.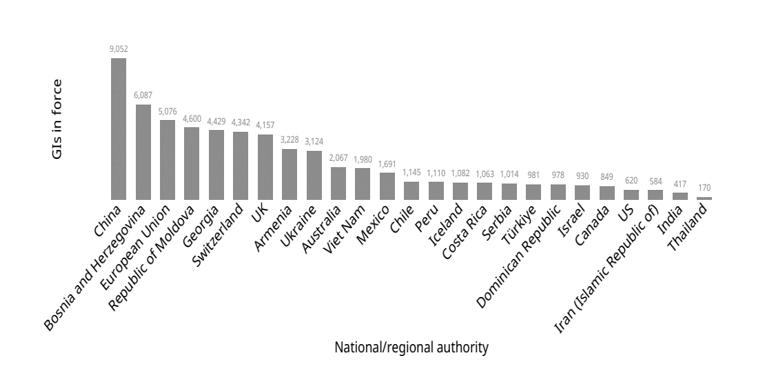 How many GIs are in force worldwide?
In 2021, China held the highest number of GIs in force within its borders with a total of 9,052 GIs whereas India stands on 24th rank. (Fig.1[3])
Geographical Indications in force by product category, 2022[4]


FIGURE 2.
The State-wise registered GIs in India are shown as under (FIGURE 3):[5].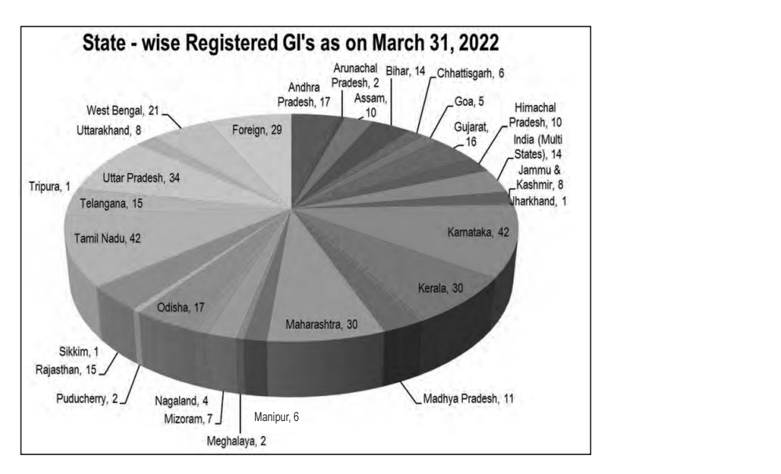 GI Applications as per Sec. 2(F) of the GI Act, 1999 filed as on 31 March 2022

FIGURE 4.[6]
As of 2023, two more Indian products, the Atreyapuram Pootharekulu sweet from Andhra Pradesh and the Dholak from Amroha, Uttar Pradesh, have been granted the Geographical Indication (GI) tag. Ladakh.[7]

FIGURE 5.[8]
The enforcement and protection of (GI) in India have been subject to critical analysis. As of October 2020, only six cases have been heard by the High Courts or the Supreme Court, highlighting loopholes in the GI protection system. The primary hurdle lies in the fact that GI registration does not guarantee full benefits in terms of market exposure and prestige for the product. The lack of post-registration activities is a major concern, and there is a need for robust protection mechanisms both domestically and internationally, along with effective marketing strategies.
Another limitation of GI laws in India is that they only safeguard the name and place of origin, leaving the technology or method of production unprotected. This has led to an influx of cheaper machine-made imitations flooding the markets, undermining the value of authentic GI products. Many GI products are associated with boards or organizations that lack sufficient financial resources to fight legal battles against infringement, both within the country and abroad. Government support becomes crucial to enable producers to afford adequate protection.[9]
Additionally, the Government's efforts in promoting and advertising GI products, whether in domestic or international markets, have been limited. Promoting GI tagged products with full potential can strengthen availability of local products in wider market.  This can ensure authenticity and quality standard of the products in the local region.
However, the Government has taken several proactive measures to promote GI tags that has also resulted in advancing India's exports. According to a report by the textile ministry (2011), participation in 85 exhibitions across the country and 18 Buyer Seller Meets have resulted into orders worth Rs.2.62 crore organised by APEDA (Agricultural and Processed Food Products Export Development Authority).[10] Apex trade promotion organisations such as FIEO (Federation of Indian Export Organisations has acted as the crucial interface between Indian exporters, Central Government, State Governments, financial institutions, concerned stakeholders. The Department for Promotion of Industry and Internal Trade (DPIIT) has also come up with several initiatives to promote GI tag products. DPIIT organized and also supported the "India Geographical Indications (GI) Fair 2022" through Export Promotion Council for Handicrafts (EPCH) to promote GI products in India and abroad.[11] DPIIT also recently set up a pavilion for GI products in India International Trade Fair (IITF).[12]
Conclusion and suggestions
The real impact of GIs significantly depends on whether producers of the said products bearing the GI share the benefits or not. The major problem in India is that the traders and not the producers capture the largest share of economic benefits resulted from the GI. In India, Geographical Indications (GI) hold a crucial position, intersecting three key domains: Intellectual Property, trade, and socio-economic policy. Undoubtedly, GIs offer several advantages, such as product quality, while also serving as a means to uplift underprivileged producers and artisans in the country. The socio-economic and public policy implications of GIs are important. However, realizing these benefits necessitates effective marketing and robust protection against counterfeit products in the market. To achieve this, Governmental support becomes imperative, extending beyond the mere registration of GI products. Particularly in developing nations like India, proactive measures by the Government are essential for promoting and fostering the growth of GI. Few examples of such measures are as follows:
Establishment of common utility centres:
This is important in all village clusters with a minimum number of (GI) producers requiring tools, machinery, or technical support for various processes. For instance, similar centres have been established, in Chanderi and Bagru. Producers' cooperatives in Bagru emphasize the urgent need for shared facilities like a waste treatment centre, requiring substantial investment to support the business. A prime example of such support is seen in Vazhakulam, Kerala, where Pineapple farmers benefit from the APEDA-funded Pineapple-Pack house, offering amenities like cooling chambers, sorting, and storage facilities.
R&D, Technical and Design Inputs:
Regular upgradation and inputs in terms of technology, design, etc. become essential to improve productivity, to upgrade quality, introduce product innovations, etc. Further cooperation is needed to develop value added products in case of agricultural products. For example, Kerala University provides technical assistance to 7 agricultural GIs of the state and the farmers say that they adhere to the guidelines and processes defined by the University experts[13]. Central Coir Research Institute, Kerala CCRI[14] has also developed upgraded looms like a pneumatic loom called Anupama and another loom called Anugraha for making coir geo-textiles. CCRI has also helped in launching innovative products from coir, like an umbrella to obstruct UV rays, jackets, coco lawn, etc. Producers of Coir products report that they have witnessed 15-20% increase in sales after GI registration and assistance has played a key role in the process.
Felicitation and Workshops:
In addition to existing programmes where artisans are invited to attend workshops by designers in major cities, young designers should be encouraged to work as interns in village clusters where they can work with the artisans and give them tips on current design sensibilities and help them create a database of designs. With respect to some of the GI products like Jute and Chikan products, Chanderi, Kota Doria, Chenapatna etc, NIFT students/ alumni are already involved. A course/project on relevant GI products should be introduced in the Universities.[15]
A branding strategy is recommended to develop GI brand as an endorser brand. Endorser brands are usually corporate brands which provides credibility to the main brand.
Since an endorser GI brand will be promoted collectively or through a coordinating agency, it allows smaller producers to reap benefits even if they do not have the ability to invest in marketing their own brands. Endorser brand strategy can also be effective in case of well-established product brands because it adds another dimension to its existing associations. In the case of Darjeeling tea, several well-known brands of tea also use the Darjeeling tea brand as an endorser.[16]
Furthermore, a comprehensive gifting catalogue featuring GI products should be compiled and distributed to the Ministry of External Affairs and the Prime Minister's Office, and pertinent departments. This initiative must aim to facilitate the selection of distinctive gifts for foreign dignitaries. Each product may be accompanied by a concise description highlighting its unique attributes.

[17]
The abovementioned measures if undertaken may give a boost to build up cross-cultural societies within the country which will not only promote the transfer of diverse GI products amongst the states and other parts of the world but will also contribute to building a better vibrant cultural society in the future.
[The authors are Long-term Intern and Associate, respectively, in IPR Litigation practice at Lakshmikumaran & Sridharan Attorneys, New Delhi]
[1] Para 1 of the TRIPS Agreement
[2] Operationalises the structure required by Geographical Indications Goods (Registration and Protection) Rules, 2002
[3] Extracted from WIPO statistics data base, 2022
[4] https://www.wipo.int/edocs/pubdocs/en/wipo-pub-943-2022-en-wipo-ip-facts-and-figures-2022.pdf, last visited 15TH July, 2023
[5] https://ipindia.gov.in/writereaddata/Portal/Images/pdf/Final_Annual_Report_Eng_for_Net.pdf
[6] ibid
[7] Sudeshna Dutta, Geographical Indication (GI) Tag 2023: State-wise list of GI Tags, 2023-06-16; https://www.edudwar.com/geographical-indication-gitag/#:~:text=The%20Atreyapuram%20Pootharekulu%20sweet%20of,2023%20goes%20to%20over%20430, last visited on 15-07-2023
[8] https://ipindia.gov.in/writereaddata/Portal/Images/pdf/Final_Annual_Report_Eng_for_Net.pdf
[9] Abhishek Mishra, BRICS LAW JOURNAL Volume IX (2022) Issue 2, Paper Titled can geographical indications support the indian village economy impacted by the ongoing economic crisis caused by covid-19
[10] (texmin.nic.in)
[11] Ibid.
[12] Ibid.
[13] Research study by Dr. Ruppal W Sharma and Ms. Shraddha Kulhari tiled, "Marketing of GI Products: Unlocking their Commercial Potential https://wtocentre.iift.ac.in/Papers/Marketing%20of%20GI%20Products%20Unlocking%20their%20Commercial%20Potential.pdf, last visited 15th July, 2023
[15]https://wtocentre.iift.ac.in/Papers/Marketing%20of%20GI%20Products%20Unlocking%20their%20Commercial%20Potential.pdf, last visited 15th July, 2023
[16]Ibid
[17]Ibid